Aging with a Plan: How a Little Thought Today Can Vastly Improve Your Tomorrow
By Sharona Hoffman – Second Edition
First Hill Books (January 2022)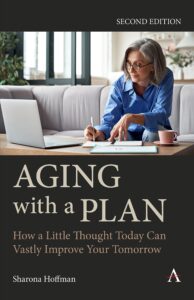 Book Events
Middleburg Heights Library, 16699 Bagley Rd., Cleveland, OH, Nov. 11, 2023, 2:00 p.m.
Solon Library, 34125 Portz Pkwy., Solon, OH, Oct. 19, 2023, 2:00 p.m.
Senior Health Festival, South Euclid Community Center, 1370 Victory Dr., Cleveland, OH, Oct. 7, 10:00 a.m.-2:00 p.m.
Putting Your Game Plan in Place, McGregor, Cleveland, OH, Oct. 4, 2023, 6:00 p.m.
Berea Library, 7 Berea Cmns., Berea, OH, Oct 2, 2023, 2:00 p.m.
Parma Heights Library, 6206 Pearl Rd., Parma, OH, Sept. 27, 2023, 7:00 p.m.
Parkinson's Disease Bootcamp, Independence, OH, Sept. 23, 2023, 1:00 p.m.
Cuyahoga County Public Library: Independence, 6361 Selig Dr., Independence, OH, Sept. 23, 2023, 11:00 a.m.
South Euclid Library, 1876 S Green Rd., South Euclid, OH, Sept. 7, 2023, 7:00 p.m.
North Royalton Library, 5071 Wallings Rd., North Royalton, OH, Sept. 6, 2023, 7:00 p.m.
Case Western Reserve University Eldercare Series, Cleveland, OH, May 17, 2023, noon
Washington Hebrew Congregation, Washington, DC, May 7, 2023, 10:30 a.m.
Cleveland Jewish Book Festival, Cleveland, OH, April 30, 2023, 10:00 a.m.
Anshe Emeth Memorial Temple, New Brunswick, NJ, April 16, 2023, 10:00 a.m.
Merage Jewish Community Center, Irvine, Ca, February 8, 2023 (virtual).
Jewish Community Center of Greater Dayton's Cultural Arts and Book Series, October 30, 2022, 4:00 p.m.
Cleveland Heights Library at Lee Road, September 21, 2022, 7:00 p.m.
Cleveland Bar Association, September 16, 2022, 12:00 p.m.
Judson Manor, Cleveland, OH, August 10, 2022, 3:30 p.m.
InMotion: Parkinson's Awareness, Exercise & Support Groups, Cleveland, OH, July 28, 2022, 4:30 p.m.
Reviews of Second Edition
"Professor Hoffman's book is essential for everyone approaching middle age and beyond. Never before have people faced so many complicated options as they age. We need help sorting out these issues, and Professor Hoffman makes it easy, covering all of the most important aspects of aging and caregiving: legal, medical, social, financial, and more. Even better, Professor Hoffman makes it an easy read with personal anecdotes and checklists throughout. Her writing is clear and direct, making even the more complicated topics easy for the lay person to understand. It's a must read for anyone who's aging or caring for someone who is aging – and that's all of us!"
–Lynne Anderson, Editor, The Daily Progress
"Nearly all of us will encounter medical and other challenges as we and our loved ones age. This book is a uniquely useful, accessible and engaging resource to help you prepare for and navigate through them. It should be on everyone's reading list!"
–Dr Roy Herbst, Chief of Oncology, Ensign Professor of Medicine, Yale University, USA
"This book provides invaluable one-stop planning and advice on how to age comfortably. Instead of denying the reality of growing old, the book shows us how to manage that reality so that we face uncomfortable topics and engage in those uncomfortable conversations and actions that will provide us ease of mind later – and allow us to grow as we age."
–Naomi R. Cahn, Justice Anthony M. Kennedy Distinguished Professor of Law, Nancy L. Bue '69 Research Professor in Democracy and Equity and Director, Family Law Center, University of Virginia, USA
Reviews of First Edition

"Driven by personal experience and a respected career in bioethics and law, Sharona Hoffman provides us a vibrant, very usable chapter-by-chapter guide, inclusive of actionable checklists to prepare for the next phases of our multifaceted phases of our lives as we experience the 40s to 80s. Her work blends scholarly knowledge and action steps to anticipate the best informed aging that will allow us to age with grace as well as to support our loved ones who may experience the vagaries of aging with the best preparedness and confidence."
–Jennie Chin Hansen, CEO, American Geriatrics Society; former president of the AARP
"This is a very practical book full of useful information. The book is particularly useful for Baby Boomers dealing with their own elderly parents. The author expertly uses case studies involving her own family to teach lessons relevant to any family. The author, who is a noted health law expert, bases her recommendations on solid research. But in addition to solid research and useful facts, the book contains many practical tips."
–David English, Professor of Law, University of Missouri; Chair, ABA Commission on Law and Aging
"Outstanding advice that will make everyone (EVERYONE) younger–learning about these choices with this excellent reference beforehand will definitely make stressful events more manageable."
–Michael F. Roizen, M.D., author of This is Your Do-Over
Book Review in the Wellesley Magazine – http://magazine.wellesley.edu/fall-2015/on-aging-well
Barnes A. Aging With a Plan: How a Little Thought Today Can Vastly Improve Your Tomorrow. NAELA Journal [serial online]. Spring2016 2017;13(1):65-69.
Available from: Academic Search Complete, Ipswich, MA. Accessed December 11, 2017.
Q&A
What is the book's mission?
This book offers a concise, comprehensive resource for middle-aged readers who are facing the prospects of their own aging and of caring for elderly relatives—an often overwhelming task for which little in life prepares us. Everyone ages, and nearly everyone will also experience having to support aging relatives. Being prepared is vital to being able to make good decisions when challenges and crises arise. Aging with a Plan addresses a breadth of topics that are relevant to aging and caring for the elderly, analyzing each thoroughly and providing up-to-date, practical advice. It can serve as a thorough resource read start-to-finish or as a quick-reference guide on specific topics that are relevant to each reader's circumstances and needs.
Why did you write the book?
The book grew out of a very difficult period in my life. During 18 months in 2013 and 2014 both my parents died, my mother-in-law died, and in October of 2013, my husband, Andy, was diagnosed with Parkinson's disease at the age of 55. As I went through these experiences, I learned a lot about the challenges of growing older, getting sick, and facing the end of life. As a Professor of Law and Bioethics, I already knew something about theories and doctrine related to many of these issues, but there is nothing like life experience to enliven your knowledge and imprint lessons on your mind. I realized that I had a lot of information to share, and I wanted to take my professional and personal experiences and put them to good use helping others. Writing this book seemed like a natural choice.
What topics do you cover?
Using an interdisciplinary approach, Aging with a Plan: How a Little Thought Today Can Vastly Improve Your Tomorrow develops recommendations for building sustainable social, legal, medical, and financial support systems that can promote a good quality of life throughout the aging process. Chapters address critical topics such as retirement savings and expenses, residential settings, legal planning, the elderly and driving, long-term care, coordinated medical care, and end-of-life decisions. For example, the book answers the following questions:
What legal documents should you be sure to have?
What expenses should you anticipate in retirement and how do you save for them?
Should you buy long-term care insurance?
What residential settings should you consider as you grow older?
How do you make good decisions about long-term care such as nursing homes, assisted living, and in-home care?
What do you need to know about medical care as you or your loved ones grow older?
How should you approach conversations about the sensitive topic of safe driving with elderly loved ones?
What options exist for end-of-life care, and how do you make sure that your wishes will be followed?
The book combines analysis of recent research on the challenges of aging with engaging anecdotes and personal observations. Readers in their 40s, 50s, and beyond will greatly benefit from learning about aging in the 21st century and from investing some effort in planning for their own old age and that of their loved ones.
What are the book's primary features?
It combines thorough scholarly research and analysis with engaging anecdotes and personal observations
The book constitutes a "one-stop shopping" resource on the subject of planning for aging. It covers a broad range of topics and offers a wealth of practical advice.
Aging with a Plan presents an interdisciplinary approach that draws on my background in law and bioethics and my personal experience with health care and the elderly
It provides a preparedness checklist at the end of each chapter that summarizes take-away messages and outlines practical next steps for the reader
Videos
Cleveland City Club Lecture [58 minutes], December 15, 2015,

CWRU Interview [9 minutes]